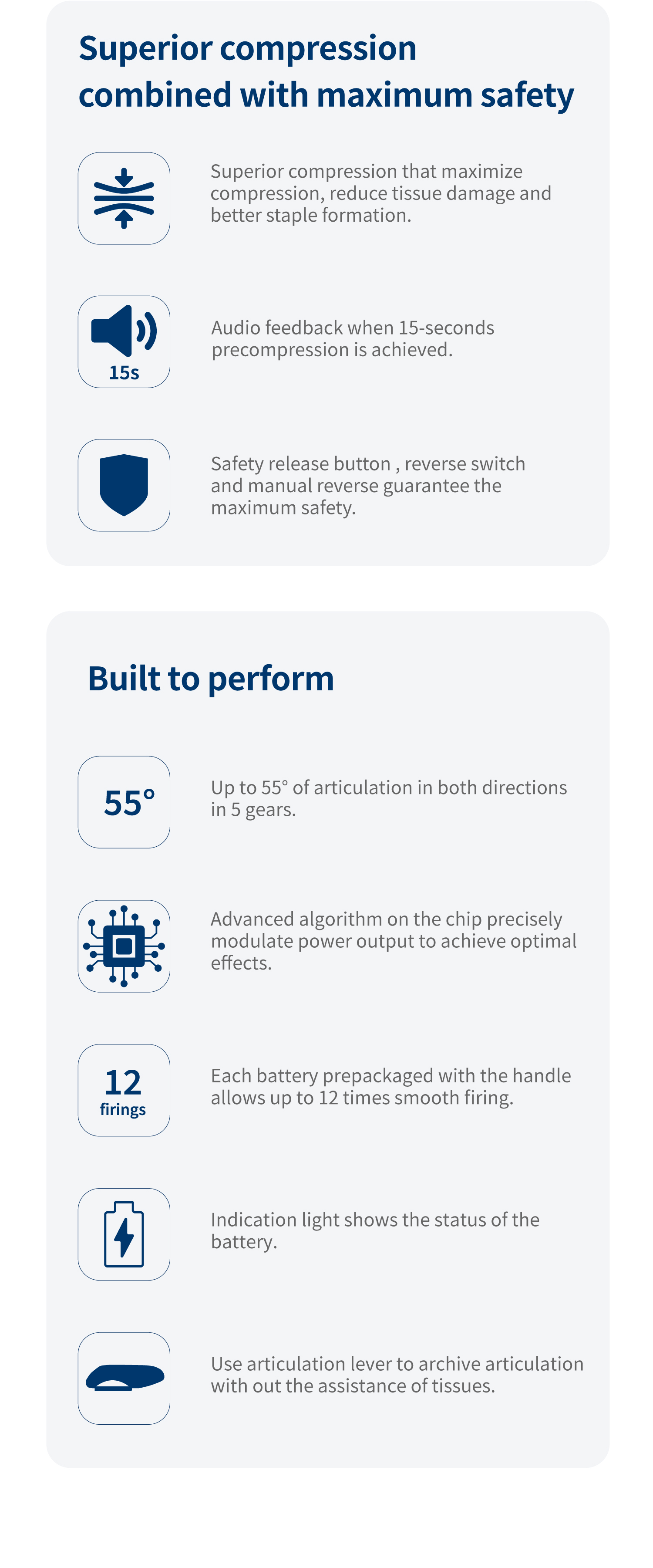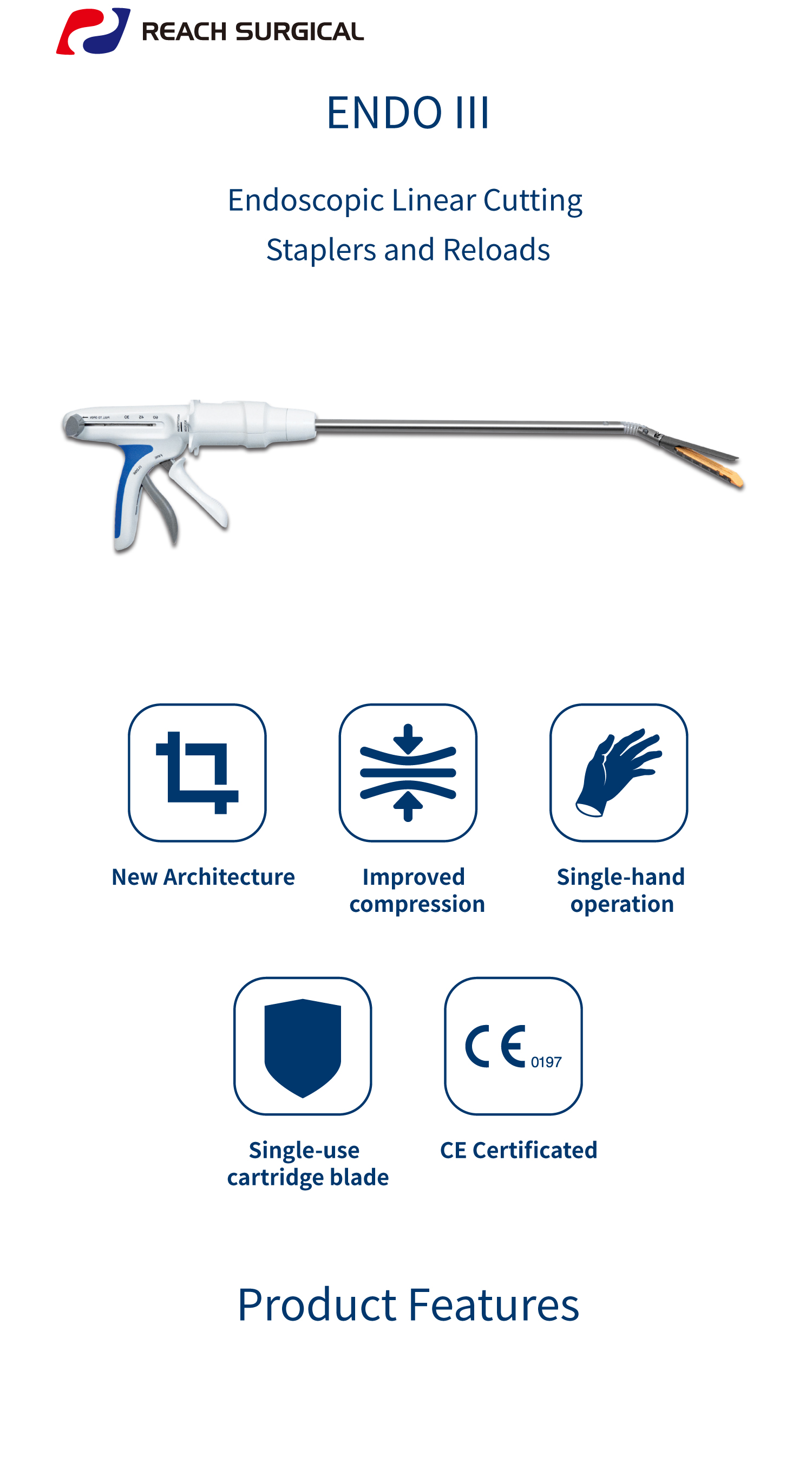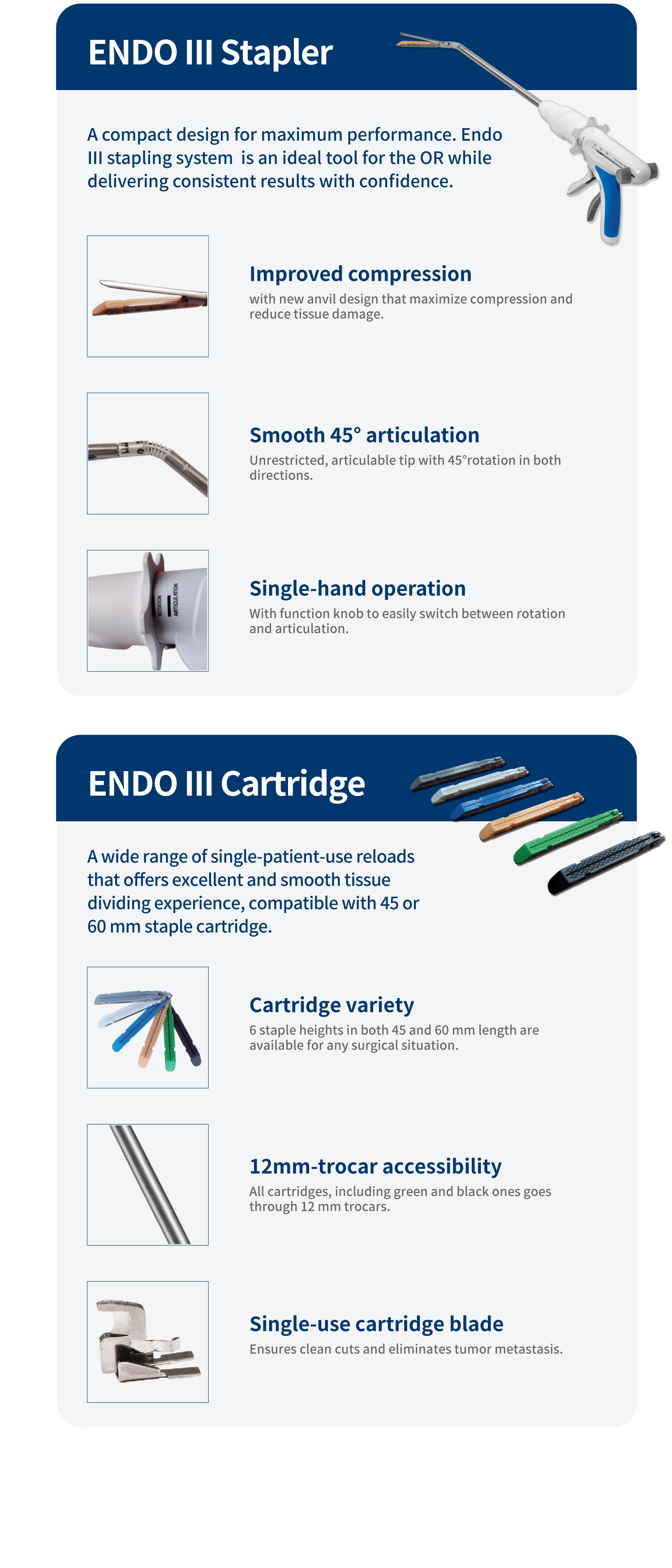 iReach Magnum Powered Endoscopic
Linear Stapler
55° articulation
Powered
12 Firings
Superior
Stability
Superior
Compression
New blade in
every cartridge
Product Features
ENDO III Platform powered up
Fundamental essentials of ENDO III stapling system now re-imagined and reassembled into a brand-new entity.
Signature tissue compression paired with smooth powered firing yields unprecedented experience, unlocking new possibilities in the OR.
Superior compression
    combined with maximum safety
Superior compression that maximize compression, reduce tissue damage and better staple formation
Audio feedback when 15-seconds precompression is achieved.
Safety release button, reverse switch and manual reverse guarantee the maximum safety.
Built
to
perform
Up to 55° of articulation in both directions in 5 gears.
Advanced algorithm on the chip precisely modulate power output to achieve optimal effects
Each battery prepackaged with the handle allows up to 12 times smooth firing.
Indication light shows the status of the battery
Use articulation lever to archive articulation with out the assistance of tissues.
Product Features
ENDO III Endoscopic Linear Cutting
Staplers and Reloads
New Architecture
Improved
compression
Single-hand
operation
Single-use
cartridge blade
CE Certificated
ENDO III Stapler
A compact design for maximum performance. Endo III stapling system is an ideal tool for the OR while delivering consistent results with confidence.
Improved compression with new anvil design that maximize compression and reduce tissue damage Smooth 45° articulation Unrestricted, articulable tip with 45°rotation in both directions Single-hand operation With function knob to easily switch between rotation and articulation.
ENDO III Cartridge
A wide range of single-patient-use reloads that offers excellent and smooth tissue dividing experience, compatible with 45 or 60 mm staple cartridge.
Cartridge variety 6 staple heights in both 45 and 60 mm length are available for any surgical situation 12mm-trocar accessibility All cartridges, including green and black ones goes through 12 mm trocars Single-use cartridge blade Ensures clean cuts and eliminates tumor metastasis.
ENDO SRC Endoscopic Linear Cutting Staplers
& Single Use Loading Units
Improved
Design
Better
compression
Improved
Force-to-fire
New blade in
every cartridge
CE Certificated
ENDO SRC Universal Stapler
Up to 20% less force-to-fire compared to last generation
Improved handling and grip design
Up to 45° articulation in two directions
ENDO SRC SULU
Convex points on surface grants more tissue gripping force*
Up to 24mm distal jaw opening
New knife in every new cartridge
Gold cartridge provides unique solution to regular/thick tissue solution through 12mm trocar diameter
A Genesis MedTech Company